Properties
Organic and natural (contains only natural preservatives).

Balances the PH in your skin minimizing the occurrence of infections.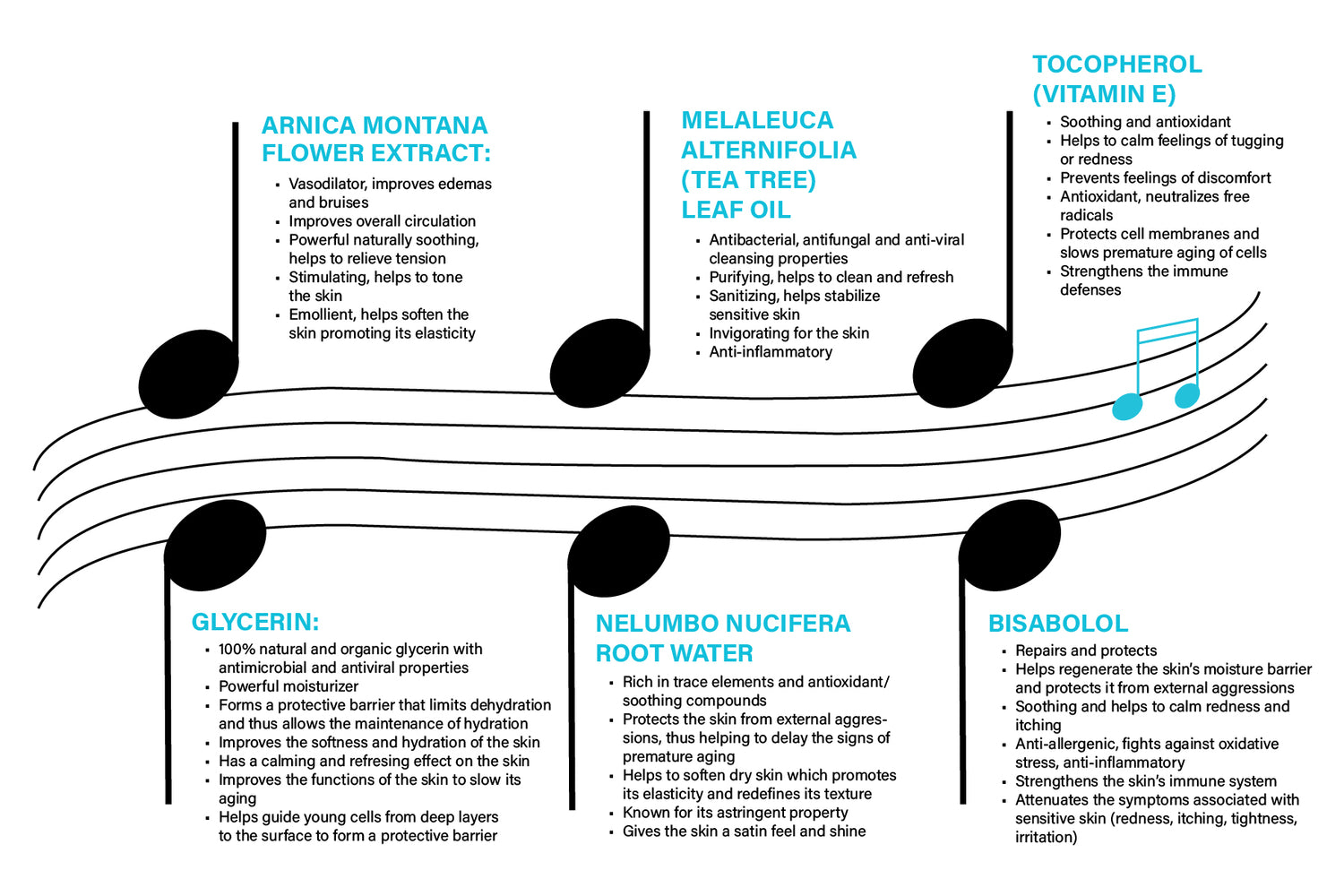 A line of ingredient notes, making a beautiful harmony.
Complete ingredient list:
Water (Aqua), Arnica Montana Flower Extract, Palmitic Stearic Acid, Aloe Barbadensis Leaf Juice, Caprylic/Capric Triglyceride, Glycerin, Cetyl Alcohol, Glyceryl Stearate, Benzyl Alcohol, Salicylic Acid, Sorbic Acid, Linoleic Acid, Potassium Sorbate, Tocopherol, Octyldodecyl Myristate, Nelumbo Nucifera Root Water, Melaleuca Alternifolia (Tea Tree) Leaf Oil, Lavandula Angustifolia (Lavender) Flower Oil, Capparis Spinosa Fruit Extract, Bisabolol.
Ingredients & Benefits
Arnica Montana Flower Extract

Vasodilator, improves edemas and bruises
Improves overall circulation
Powerful & naturally soothing, helps to relieve tension
Stimulating, helps to tone the skin
Emollient, helps soften the skin promoting its elasticity
Aloe Barbadensis Leaf Juice

100% organic gel
Moisturizer, soothing and protective
Emollient effect that softens the skin
Protects the moisture barrier of the skin
Acts as an anti-inflammatory and anti-irritant agent
Rich in polysaccharides, vitamins and minerals
Moisturizing, soothing and protective, antibacterial and antiseptic action
Anti-inflammatory and anti-irritant, respecting the most sensitive skin
Rich in polysaccharides
Glycerin

100% natural and organic glycerin with antimicrobial and antiviral properties
Powerful moisturizer
Forms a protective barrier that limits dehydration and thus allows the maintenance of hydration
Improves the softness and hydration of the skin
Has a calming and refreshing effect on the skin
Improves the functions of the skin to slow its aging
Helps guide young cells from deep layers to the surface to form a protective barrier
Tea Tree Oil- Melaleuca Alternifolia

Antibacterial, antifungal and anti-viral cleansing properties
Purifying, helps to clean and refresh
Sanitizing, helps stabilize sensitive skin
Invigorating for the skin
Anti-inflammatory
Nelumbo Nucifera Root Water

Rich in trace elements and antioxidant/soothing compounds
Protects the skin from external aggressions, thus helping to delay the signs of premature aging
Helps to soften dry skin which promotes its elasticity and redefines its texture
Known for its astringent property
Gives the skin a satin feel and shine
Lavender Oil- Lavandula Angustigolia

Astringent and purifying
Revitalizing and helps to reduce imperfections
Refreshing/soothes redness
Antiseptic, sanitizes the skin
Regulates the production of sebum
Prevents the appearance of papules
Healing action
Calms irritations and redness
Capparis Spinosa Fruit Extract

Improves redness and overall microcirculation
Improves edemas
Contains phytochemicals and macronutrients, flavnoids, essential minerals including calcium, potassium and magnesium
Rich in antioxidants such as carotenoids, tocopherols, ascorbic acid, and a newly identified antioxidant, cappariside, a small organic acid
Nourishing and helps to ensure that the skin always remains well moisturized
Is believed to be effective for treating irritations, skin redness and acne
Has rich rutin (quercetin-3-O-rutinoside) content- a bioflavonoid that makes the capillaries stronger and helps in relieving conditions such as rosacea, a condition that causes pimples and redness on the face
Contains another bioflavonoid called quercetin, which possesses anti-bacterial as well as anti-inflammatory attibutes. This bioflavonoid helps in lessening acne development and several other skin infections

Bisabolol

Repairs and protects
Helps regenerate the skin's moisture barrier and protects it from external aggressions
Soothing and helps to calm redness and itching
Anti-inflammatory
Anti-allergenic, fights against oxidative stress
Strengthens the skin's immune system
Attenuates the symptoms associated with sensitive skin (redness, itching, tightness, irritation)
Vitamin E- Tocopherol

Soothing and antioxidant
Helps to calm feelings of tugging or redness
Prevents feelings of discomfort
Protects the skin from external aggressions, helping to delay the signs of premature aging
Antioxidant, neutralizes free radicals
Protects cell membranes and slows premature aging of cells
Strengthens the immune defences
Caprylic Triglyceride

It helps smooth skin and works as an antioxidant
It binds other ingredients together
Can work as a preservative of sorts to make the active ingredients in cosmetics last longer
It is valued as a more natural alternative to other synthetic chemicals found in topical skin products
Glycerylstearate

Used as a skin conditioning agent, emollient and a surfactant
Emulsifying agent in cosmetics and personal care products
Is used to stabilize a product, decrease water evaporation, make the product freeze-resistant, and keep it from forming surface crusts
Salicyclicacid

Used as a preservative
Protects agaist the growth of micro-organisms
Cetyl Alcohol

Helps prevent creams from separating into oil and liquid.
Sorbic Acid

Sorbic acid and it's commonly used salt, Potassium sorbate is a naturally occuring antimicrobial compound
It is used as a mild preservative in cosmetic and skin care formulas
It is also used as a paraben alternative to prevent or retard the growth of micro-organisms and protect these products from spoiling